Sharepoint 3 Web Hosting
WebhostforASP.NET fully support WSS 3 Web hosting SharePoint 3.0 offers some key improvements over SharePoint Version 2, along with the introduction of SharePoint Designer 2013.
Windows Hosting Plan that support Sharepoint 3 hosting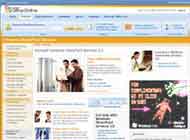 Best, Cheap & Reliable Windows Sharepoint Services 3 Hosting by WebHostForASP.net
An exciting new web site development and management program that provides you powerful tools to build, customize, and contribute to SharePoint sites using the latest web design technologies and established standards in an IT-controlled environment.
All our hosting plans fully support SharePoint Services 3.0 Hosting. With just one off installation fee of $15, you can run WSS 3 on your websites. There is no hidden or extra monthly fee for WSS 3 Hosting.
How Easy is SharePoint WebHosting to Manage?
SharePoint site managers can customize the content and layout of sites to ensure that site members can access and work with important and relevant information. Members participation can also be monitored and moderated when necessary. Security and task responsibilities are both flexible and easily accessible. Well-designed lists and entire sites can be saved as templates and reused by individuals, teams, or business units across an organization.
Additional Information and SharePoint 2013 Product Highlights
Windows SharePoint 2007 Highlights
Read the overview for an in-depth examination of the features and functionality of Windows SharePoint Services technology.
SharePoint Designer 2007 Product Information
Read an overview on creating reporting and tracking applications, automating document-centric business processes, and designing and delivering attractive SharePoint sites.
SharePoint Designer 2007 Flash Demo
See Microsoft Office SharePoint Designer 2007 in action. Learn how you can automate your business processes, build efficient applications on top of the Microsoft SharePoint Products and Technologies platform, and tailor your SharePoint site to your needs in an IT-managed environment.
What's New with SharePoint Services Web Hosting
Why SharePoint Hosting with WebHostforASP.NET ?
We provide the most competitive and affordable SharePoint Hosting
You get Free SharePoint Users on all hosting plan.
No hidden fees.
We provide full support for your Windows SharePoint Hosting
Low monthly cost of $5 for hosting Sharepoint 3.0