B2Evolution Hosting
B2Evolution includes all the features of traditional blog tools, and extends them with evolved features such as file & photo management, advanced skinning, multiple blogs support as well as detailed user permissions.
Windows Hosting Plan that support B2Evolution hosting
B2Evolution Hosting with WebhostforASP.NET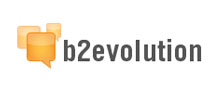 B2Evolution Hosting Requirements
Client needs to ensure that his hosting package does have one new MYSQL database available for the installation. Without the availability of the MYSQL database, the free installation will not work and hence, your B2Evolution Hosting cannot be installed. It support PHP 4.3 or better and require MYSQL 4 or better.
B2Evolution Profiles
What are the Benefits of B2Evolution?
For Blogging Newbies

You type something in a form and hit "post this"; in the next second it's on your website. Your posts are automatically arranged by date and category into a skin/theme that you can chose (and customize if you wish to do so).

For Average Bloggers

B2evolution is an advanced weblog tool, i-e software allowing you to run your own blogs, newsfeeds or even photo strea. It does basically the same thing blogger or typepad does, but with two main differences which is it is free and be able to host on your own domain / website.

For Advance Bloggers

You could compare b2evolution to Movable Type, except b2evolution be able to run on the very common PHP/MySQL platform which allows it to run easily on almost any web hosting service!

For IT Professionals

B2evolution is a medium scale CMS centered around the Blog concept, fully featured with multiple blogs,content and presentation separation, full user management, full internationalization (Multilingual), workflow management and extending towards features normally provided by Wikis, Trackers or hierarchy driven CMSes.
Why B2Evolution?
If you don't have your own website yet, you may get one from a webhostforasp.net. This will allow you to easily choose your own domain name, set up your website and automatically install b2evolution so that you can start blogging on your own site in a matter of minutes.
Why hosting B2Evolution with Us?
We support automated B2Evolution installation, and building Blog.
Each web site is hosted in its own Isolated Application Pool for maximum security and reliability
24/7 Technical support from our B2Evolution Expert
Managed Backup / Recovery of customer data - Re-invent backs up all data daily and is available for recovery at anytime at your request
Fast and secure MySQL and Web servers give you maximum reliability and performance
High Quality customer customer service second to none in the reseller hosting industry
We have Extensive experience with B2Evolution hosting and troubleshooting
WebhostforASP.NET windows hosting is compatible with the B2Evolution hosting management and collaboration application
Other features of B2Evolution
AntiSpam

Effective combination of active and passive antispam measures ¡ª including a community shared blacklist ¡ª to block comment and referer spam.

Support Multiple Blogs

Install b2evolution once and use it for 2, 3, 10, 100 or even 1000 blogs at the same time. Each blog can live on a different page, in a different folder, or on a different domain. You could also choose to display several blogs on the same page. Photoblogs, moblogs, linkblogs, blogrolls can be added in a snap.

Blog Skins

Skins do not only determine how your blog looks but also how they behave: traditional blog, knowledge base, bug tracker.

Support Multiple Users and Authors

Any user can be given permissions to read, write, moderate or fully customize any number of blogs. Complete and detailed permission management is included.

Multilingual Supports

Users can choose from variety of language packs to download.

Great Integrated Stats

B2evolution will show you activity graphs for each blog, including robots, RSS readers and browser hits broken down by referrers, searches, direct accesses, self-referred, etc. Also includes search keywords, user logins and more.
WEBHOSTFORASP PROVIDE FREE ASP.NET HOSTING THAT SUPPORT B2EVOLUTION HOSTING
Our Free Asp.net hosting support the latest community server hosting, Before you decide to buy you can try our asp.net hosting by signing up our Free asp.net Hosting for 45 Days. Upon approval you can get your Free 45 days asp.net hosting account up and running within 15 minutes.
Please notes that all free asp.net hosting account will be auto renew after 45 days free period is over.
To try our free asp.net hosting please click the button below.
Order Now
For more information about our free asp.net hosting please click the button below.
View Details